Inside buildings, between different departments, for example, there is sometimes a need for high-speed doors in order to maintain privacy, provide access for forklifts, etc. without the various work environments affecting each other. Our Revolid rapid roll door is the perfect solution for this. It has an opening speed of 1.8 m/s and its simple, reliable design makes it very affordable.
BENEFITS OF A RAPID ROLL DOOR FROM PRIDO
Developed and manufactured in Sweden

Endurance tested for 1 million opening cycles

Entirely made to measure in sizes up to 3500 x 3500 mm

1.8 m/s opening speed

Easy and quick to install thanks to few parts and screw fitting
Requires minimal side and overhead space: 100 mm and 500 mm, respectively

Motors and control units from Europe's largest manufacturer, German GFA

Light curtain in the opening for optimum safety and to reduce the risk of collisions
Low maintenance costs

Short delivery times and high delivery reliability

CE-certified according to European standard on doors EN13241

7-year warranty

2-year warranty on electronics

Safety was an important consideration during the development process, and the doors are designed and CE-marked in accordance with the applicable standard for doors EN13241. The doors are equipped with a light curtain in the opening. When closing, it prevents contact with the door leaf and, at the same time, reduces the risk of collision damage. The door reverses to its fully open position as soon as anything breaches the light curtain zone.
Technical facts about Revolid rapid roll doors
CE-marking
All Revolid rapid roll doors are CE-marked to comply with the
Construction Products Regulation, Machinery Directive, Low Voltage Directive and EMC directive in accordance with the applicable EN 13241–1 standard.
---
Insulation rapid roll door
NPD (No Performance Determined, designed to be positioned indoors).
---
Air permeability
NPD, in accordance with EN EN 13241
---
Mechanical durability
The Revolid rapid roll door is designed and tested for 1,000,000 opening cycles in accordance with EN12605.
---
Resistance to water penetration
NPD, in accordance with EN12425.
---
Wind load resistance
NPD, in accordance with EN123444 and EN12424.
Door leaf
Scratch-resistant, fabric-reinforced PVC canvas, 900 g/m², approx. 0.9 mm thick. Available in 4 standard colors. HF-welded keder rails welded into place on the sides of the door canvas.
Windows
1.0 mm transparent PVC HF welded in the door leaf.
Bottom profile
Two-section aluminium beam with a structure that allows minor impacts without damage. The bottom profile also includes the weights that give the door fabric its spread out shape in the closed position.
Bottom skirt
70 mm-high bottom seal made from EPDM rubber ensures a good seal against the floor. The design of the base seal, base bar and door canvas also provides a solution that seals all the way out to the corners of the door (which is otherwise a common source of issues with high-speed doors), and neither are there any expensive components that might be easily damaged upon impact.
Personal safety is ensured via the light curtain in the sides of the door
Side profiles
Strong extruded aluminium profiles, in a two-section design that automatically creates cable ducts for the different door controls and motor connections, also function as the controls for the door leaf.
Seals
The canvas is sealed in narrow grooves in the side profiles. Aluminum profile to reduce the opening between the canvas and the wall above the door.
Fabric partition
Made from steel with a minimum thickness of 4 mm, or from wood with a minimum thickness of 75 mm.
Fabric controls
Heavy-duty, zinc-plated, 5 mm-thick laser-cut plates with elongated holes for easy installation and adjustment. Heavy-duty ball bearings bolted to the bearing brackets.
Door surround
Steel with minimum 3 mm thickness.Use thread profile steel screws for mounting.
Motor
GFA SI3,5.160 with an output speed of 160 rpm, which gives an opening and closing speed of 1.15 m/s, Operating voltage 3-phase 400V, operating current 1.1 A, frequency 50Hz, enclosure class IP54. Built-in brake/fall arrest device as fall protection. An alternative option is an induction motor with soft start and soft stop, giving an opening speed of 1 m/s and a closing speed of 0.5 m/s. Temperature range -10 to +40 degrees.
Control
GFA FI 4.250 frequency-controlled, single-phase, 230 V, IP65-rated motor available as an option. Built-in brake/catching device to provide fall protection. Temperature range -10 to +40°C.
Light curtain
Enclosed in aluminium and screwed to the side profile. 32 light beams, 15 m wiring on both transmitter and receiver, LED status indicator.
7-year warranty
See separate documentation with our warranty conditions.
Maintenance, servicing
The lowest service requirements in the market.
Once every 18 months or max. 50,000 openings.
Colour chart Revolid rapid roll door
The colour of an industrial door is obviously of great importance to the overall impression of the building. This is why Prido offers a number of standard colours for its rapid roll doors.
| | | | |
| --- | --- | --- | --- |
| RAL 3002 | RAL 9016 | RAL 5010 | RAL 7037 |
View window options for Revolid rapid roll door
1.0 mm clear PVC HF-welded into the door canvas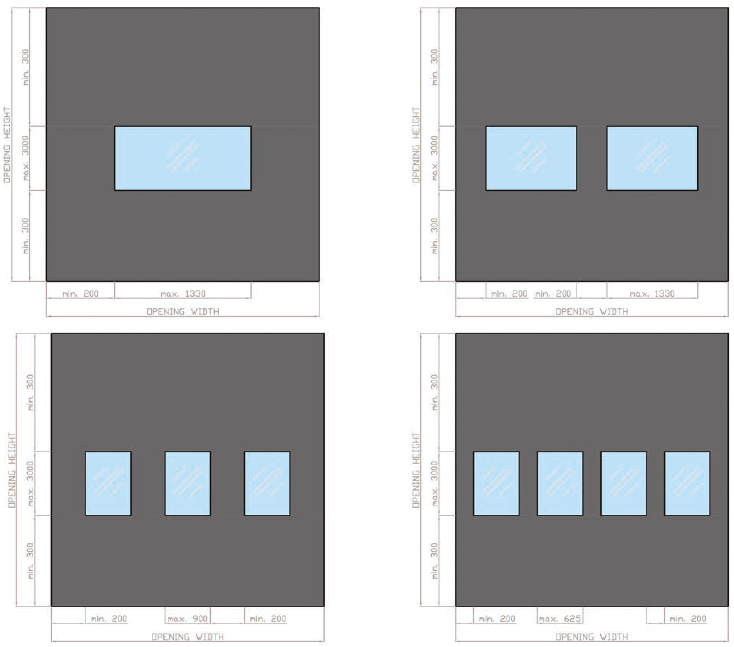 Door surround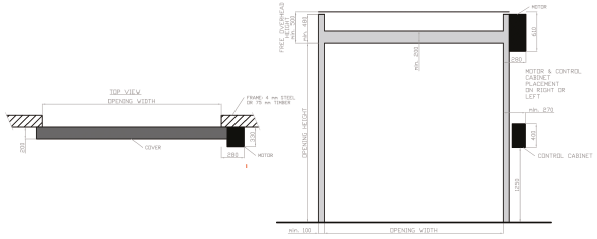 Motors and controls
Motors and controls for Revolid doors are supplied by the German company GFA, Europe's largest and leading manufacturer of
door drive and control equipment. The solution offers a range of different options and is also characterised by its operational reliability
and ease of use.
The following features are standard:
Motor that opens and closes the door at 1.15 m/s
Complete plug-in wiring between the engine and control
Five-pole CEE plug for mains connection with plug-in connection in the control cabinet
Control cabinet GFA TS971, IP65 classified
Integrated three-button set; open, stop, close
Digital limit settings
Digital setting of rotational direction (used for phase inversion)
Integrated radio receiver (only a remote control is needed for radio control)
Two potential-free relay contacts
Function for half opening
Automatic time delay closure
Power monitoring (prevents a person being lifted and transported by the door)
Programmable maintenance cycle counter (including countdown, warning and stop function)
Cycle counter for the total number of door openings
Fault memory and memory for programming change.
Light curtain for personal safety, which screens the door up to a height of 2.5 m
In addition to these functions, the control has also been prepared for the following connections:
Active anti-crushing protection strip (not required when the door is equipped with a light curtain)
The anti-crushing protection strip is either connected via a spiral cable or radio transmission
Additional emergency stop
Extra push button box or key operated switch
Extra photocell
External radio receiver
Drawstring switch
Extra collision detector
The control can also handle a variety of other external equipment such as code lock, card reader, radar and ground loops. If you want to connect several doors in a series, select a control box with the designation TS981. The Revolid door can then be functionally connected with other door models that use the same control.
Radiomottagare med fjärrkontroll
Radar
Tryckknappslåda och nyckelmanöverlåda
Kodlås och kortläsare
Dragsnöresöppning
Markslinga
Environmental Product Declaration – Ecolid folding door
Description of the company and product
The company:
Prido is, with more than 45 years of experience, one of the leading players in its industry.
The company works with design, development, manufacturing and marketing of industrial door solutions for industries and other door users in the Nordic region and Northern Europe.
Our objective is to offer the most attractive range in the industry that is best-adapted to the market.
Head office
Industrigatan 3
534 92 Tråvad
Tel: 0512-295 90
Fax: 0512-200 30
E-post:
info@prido.se
www.prido.com
Environmental work:
The company's environmental policy is available on its website. Regular monitoring is carried out.
The product:
The Ecolid door is a folding door in a process laminated sandwich construction. The framework consists of aluminium profiles with steel reinforcement. The frame is filled with isocyanate and polyol that create a polyurethane insulation. Interior and exterior in hot galvanised sheet steel. Manufacturing takes place at the head office in Tråvad outside Vara. The service life of the door is estimated to be at least 25 years. The specified service life assumes that the product is used under the intended operating conditions. Heavy damage to the paint coating, which also damages the underlying galvanised layer should be repaired. Otherwise, maintenance is only required in accordance with the maintenance instructions in the user manual for the industrial door.
Declaration of contents:
The table below provides information on the composition of Ecolid. Door dimensions are customised to the customer's requirements, so size varies.
The table shows the contents of the most common version – 4,000 mm x 4,000 mm, with a row of windows and pass door:
| | |
| --- | --- |
| Material | Amount |
| Steel | 233,2 kg |
| Aluminium | 65 kg |
| Rubber | 19,9 kg |
| Plastic | 0,1 kg |
| Polyurethane | 43 kg |
| Windows | 7,2 kg |
| Other | 0,2 kg |
| Totalt | 368,6 kg |
For more information about the constituent components, please contact the manufacturer.
Environmental Performance Declaration:
The information about the product's environmental performance is divided into a section on manufacturing and a section on use.
Manufacturing:
The use of resources:
– Power Consumption approx. 104 kWh/door.
Pollutant emissions:
– No measurable emissions occur.
Other information:
– Hazardous waste: Some waste occurs with the cleaning of polyol and isocyanate machines. This is dealt with by Stena Recycling destruction. An average of approximately 150 kg per year has accrued, compared to the 192 tonnes of raw material used in production.
– Other waste: Residual products in the form of cut-outs occur in production. They are not classified as hazardous waste, and can be disposed of without restrictions and used for ground insulation.
– Chemicals used in production: Polyol, Isocyanate, hot melt adhesive.
Packaging:
– Packaging is done around a frame. The frame consists of steel side end pieces with wooden feet, wooden slats as spacers and plastic sheet on the bottom of the door packaging. Tied with plastic ties and wooden slats on top of the door frame. Loose accessories are packed in cardboard boxes.
Own emissions:
– None known.
Recycling:
The metal can be recycled. Wood and rubber remnants can be used in energy recovery. Cellular plastic waste can be disposed of without restrictions (not compostable). Glue residues can be burned/disposed of.